PRESS PICTURES



Click to open high res picture

Click to open high res picture

Click to open high res picture
SoundBurger har varit ett elektroniskt projekt i ca 10 år, där liveframträdandet har byggt på hälften skrivet och hälften improviserat material. På senare år har dock det utvecklats till ett mer traditionellt pop/rockformat, där viljan att berätta en historia tagit över. SoundBurger bygger på den ohämmade kärleken till synthesizerns ljudmöjligheter.
SoundBurger has been a syntezeiser project for around ten years with many gigs performed based on half written and half improvisised instrumental material. But things have evolved into a more straight forward pop/rock format with the urge to tell stories through vocal engagements. Sound Burger is based on the unstopable love for syntheseizer sounds.

Members:
Mats Wigerdal - Vocals, Synthesizers, Guitar, Vocoder and programming.
Per Thorsell - Synthesizers, Vocoder; Guitar
Per Thorsell and Mats Wigerdal have previous been in band such as Art Decade, Kitchen and the Plastic Spoons, Ubangi, Oven & Stove, Robert Johnson and Punchdrunks.

DOWNLOAD POSTER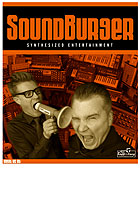 Click to open hig res poster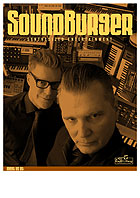 Click to open hig res poster